Sylvan Park Women
Our Ministry to women is modeled after Paul's instruction to Titus, where the spiritually mature women are to invest themselves in the younger women of the church. With that in mind, the Women's Ministry at Sylvan Park Church is for all women – no matter your age, background or life stage.
"The older women likewise, that they be reverent in behavior, not slanderers, not given to much wine, teachers of good things— that they admonish the young women to love their husbands, to love their children, to be discreet, chaste, homemakers, good, obedient to their own husbands, that the word of God may not be blasphemed." Titus 2:3-5
Our women want:
to meet ladies right where they are – encouraging, praying and equipping them in their journey with God
to grow our faith and demonstrate His love and grace through our lives and relationships.
to develope deeper, Christ-centered relationships with each other through small groups, prayer meetings, fellowships and mentoring
to encourage and equip women to faithfully and fully use their God-given gifts to glorify God.
to help every woman to feel loved and accepted for who she is in Christ so that she is transformed and empowered to live out Christ's love and grace.
We believe that those who have been godly wives, and or mothers have experienced some wisdom to share with those younger women who are becoming wives and mothers. We also believe that godly women should be intentionally investing in the development of teenage young ladies and girls.
We implement this through focused Bible studies, character training, and skills development events.
We believe these intentions and activities fulfill Peter's admonition for believers to Grow in the Grace of Jesus Christ.
"But grow in the grace and knowledge of our Lord and Savior Jesus Christ…" 2 Peter 3:18
CURRENT STUDY | Spiritual Mothering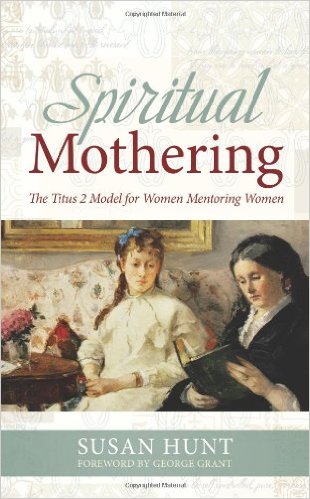 ABOUT SPIRITUAL MOTHERING
Many churches lack a crucial element central to the flourishing of women: older women mentoring younger women. Using Titus 2 as a guide, seasoned author Susan Hunt casts a biblical vision of what the church can be when women invest in vibrant relationships with one another. Featuring inspiring stories from the Bible and from women today who have faithfully embraced Scripture's command, this book offers readers an abundance of practical insights, ministry-tested how-to's, and personal encouragement. This classic book will inspire a new generation of women to seek out the blessing of godly relationships that will encourage and equip them to live for God's glory.
Join our women on Sunday evenings at 5:30 PM